Chicken Garden Vegetable Penne
PaulaG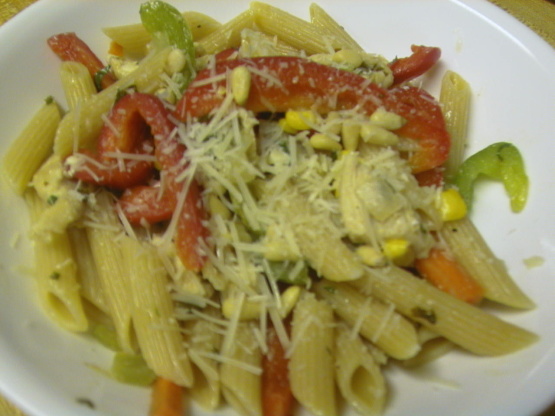 This is a refreshing pasta dish chocked ful of garden fresh vegetables.
Top Review by PaulaG
This recipe has potential, I did not like the pine nuts, maybe if they had been toasted. I did not marinade the chicken for 2 hours. After about 30 minutes it was already beginning to cook in the lime juice. The recipe does not say how to cook the julienned veggies. I choose to put them in a steamer basket and place over the penne while cooking. I used more basil and parmesan cheese than the recipe called for.
Mix together the juice of 1 lime, 1 teaspoon of lime zest, 1 garlic clove, crushed, 2 Tablespoons salad oil, 2 teaspoons fresh cilantro, chopped and salt and pepper to taste.
Marinate chicken breast for two hours in the refrigerator.
Place the chicken breast in a pan and cook over medium-high heat for 3 minutes on each side.
Remove from pan, cool and slice.
combine the chicken with the cooked penne, red, green, and yellow pepper, carrot, peas, and corn.
In a seperate bowl, combine 3 Tablespoons of olive oil, juice of one lime, 2 teaspoons of cilantro, 2 teaspoons of red wine vinegar, and salt and pepper to taste.
Pour over penne mixture and toss.
Sprinkle with the basil, parmesan cheese and pine nuts to finish.