Chicken Ceylon Style (Sri Lanka)
loof751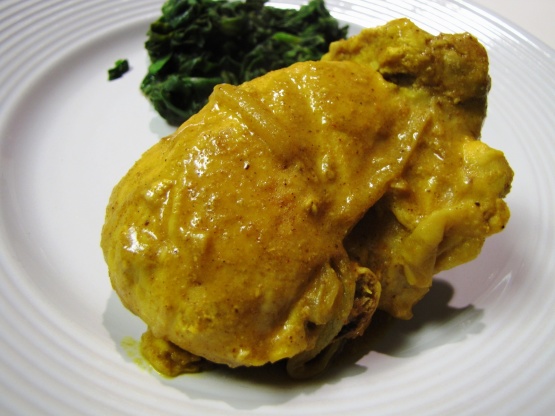 ZWT6 - Asia Cook time does not include marinade time.

Great chicken dish! I don't care for onions so left them thinly sliced instead of mincing them into the sauce. I used recipe #38702 (Homemade Curry Powder) and the sauce was richly spiced and the chicken was tender and delicious. I will increase the pepper flakes or add some cayenne to my curry powder next time to turn up the heat a bit. We enjoyed this - thanks for sharing the recipe! Made for the Best of 2010 Event (recommended by Mia in Germany)
Mix buttermilk and garlic powder in bowl. Add chicken and let marinate 2 hours or more. Baste and turn often.
Melt butter in a deep skillet and saute onions 10 minutes, stirring frequently.
Meanwhile, mix salt, ginger, curry and cornstarch together in a small bowl and sprinkle over onions, stirring until well blended.
Drain the chicken (reserve the buttermilk) and cook the chicken in the same skillet until lightly browned. Stir in buttermilk. Cover and cook over low heat 1 1/2 hours or until chicken is tender. Baste frequently.