Chicken Breasts Baked on Wild Mushrooms

Rich, creamy Port and mushroom sauce makes these chicken breasts special. A little more work than a weekday meal, but worth it. Great served with plain rice or simply flavored risotto (lemon or parmesan would be nice) to soak up the flavors. Adapted from Silver Palate Cookbook.
3⁄4 cup chicken broth
1 ounce dried wild mushrooms, thoroughly rinsed under running water,and drained (such as cepes, morels, etc, all one kind or a mix)
1⁄2 lb fresh cultivated mushroom, wiped clean with damp paper towel (button)
5 tablespoons unsalted butter
1⁄4 cup finely-chopped shallot (or 3 green onions, finely-chopped, plus 1 T minced garlic)
salt and pepper, to taste
1⁄3 cup medium port wine
1⁄3 cup heavy cream
Directions
In a small saucepan, bring broth to a boil; pour over the wild mushrooms in a small bowl and let stand for about 2 hours.
Thinly slice cleaned mushroom caps, discarding stems.
In a skillet over medium to medium-to-low heat, melt butter and gently saute shallots or onion/garlic mixture for about 5 minutes (do not brown).
Drain liquid from wild mushrooms and reserve.
Finely chop the wild mushrooms and add them and the fresh mushrooms to the skillet with the shallots (or onion/garlic mixture) and saute over medium heat, stirring occasionally, for about 7- 10 minutes.
Preheat oven to 325 degrees Fahrenheit.
Add the reserved mushroom liquid, Port, and cream to the skillet and simmer for about 5 minutes, or until slightly thickened.
Pour mushroom mixture into a shallow baking dish and arrange chicken breast halves in a single layer on top of the mushrooms.
Sprinkle chicken with salt and pepper and cover the dish tightly with aluminum foil.
Bake in the middle level of the oven for about 25- 30 minutes, until chicken is done.
Most Helpful
Absolutely wonderful chicken dish I did prepare for a weekday meal. (I had DD soak the mushrooms before I got home, so it took me no longer than any simple, quick meal.) We really enjoyed the combination of wild and button mushrooms, and the port wine and cream added a great flavor to the sauce. The only modification I made was to brown the chicken breasts quickly in olive oil before I added them to the baking dish. I used the same pan that I sauted the mushrooms in, so there was no added mess. Served the chicken with plain, brown rice - very nice combination. If I find a risotto recipe that I can master I will definitely try that, too. Thanks, Beth! We will definitely make this again!
We have a keeper! The only change I made was to sub. the Port wine, don't have any and I don't like to buy a whole bottle for a first time dish, sooo... I added 1/2 c sugar to a cup Cabernet and reduced it to a simple wine syrup. It was a little too sweet but still did well. If I don't get any Port for the next time I make this I will reduce the sugar to 1/3 c. Hope I don't give anyone the creeps or something by posting this. I sreved it with rice and the sauce was quite good over it.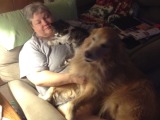 If you are a mushrooms lover like me, you MUST try this recipe. It is a fairly easy recipe to put together and the results are outstanding! The combination of fresh mushrooms and dried was a very good mix of textures and taste. I did not have any port so I substituted red grape juice and a little lemon zest. Like the other reviewer, I also quicky browned my chicken breasts in a little olive oil before adding it to the pan. I served it with lemon risotto (recipe #51504) and some steamed broccoli. This was a great romantic weekend meal for my BF and I. This woud be a great dish to make to impress your next dinner party!!!