Chicken Avocado Steak With A1 Dark Chocolate Walnuts Sauce #A1
Hidemi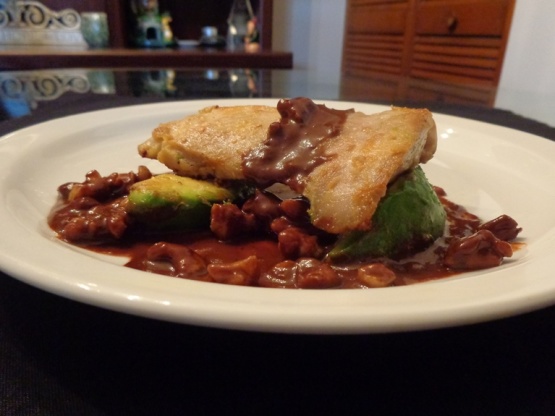 A.1. Original Sauce Recipe Contest Entry. Garlic flavored chicken steak and sautéed avocado with dark chocolate walnuts sauce which are made of A.1. original sauce, dark chocolate, almond milk and walnuts.
4

boneless chicken thighs or 907.18 g boneless chicken thighs

29.58

ml olive oil

4.92

ml garlic salt

4.92

ml lemon juice

9.85

ml garlic, grated

1

avocado
salt and pepper

29.58

ml dark chocolate chips

59.16

ml unsweetened almond milk

118.29

ml walnuts, chopped coarsely

59.16

ml A.1. Original Sauce
In a large bowl, mix together olive oil, garlic salt, lemon juice and grated garlic. Put chicken thighs into the bowl, rub the chickens with the sauce and refrigerate for half day.
In a hot skillet (large enough to cook 4 chicken thighs. If it is not available, please work on 2 batches), put the chickens, skin side down and cook over medium heat until skin is crisp and golden brown. Turn chickens, reduce heat to medium-low heat and cook the other side until chickens are no longer pink.
Take the chickens out of the skillet and place on a cutting board or plate. Cover with aluminum foil to keep chickens warm.
Halve avocado, remove seed, scoop avocado pulp and slice each halved avocado into 4. (total 8 slices).
Discard the fat in the skillet and put avocado slices into the skillet and sauté both sides of avocados until lightly brown. Add salt and black pepper to taste. Take the avocados out and place on another plate. Set aside.
In the same skillet, put A.1. original sauce, almond milk and dark chocolate chips. Heave over medium low heat and stir to melt chocolate. When the chocolate chips melt, stir in walnuts. Turn off the heat and spread the sauce on each serving plate.
Place 1 chicken thigh and 2 slices avocado on the sauce on each serving plate.