zanot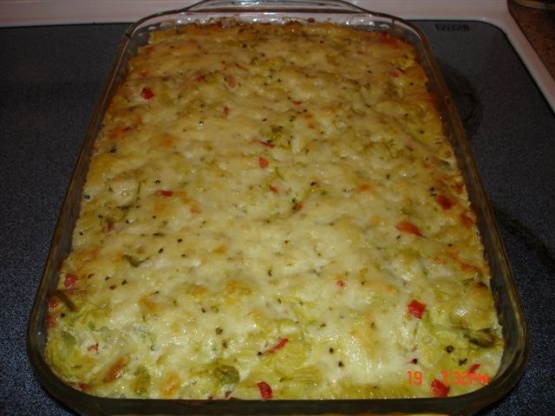 This came out of one of the free leaflets that you can get through the mail. I have adapted it to suit my family, but you could easily change it around to suit you family as well. Try it and enjoy.

Enjoyed the flavours, thanks for sharing
Preheat oven to 350°F
Heat oil in medium skillet over medium heat.
Add bell pepper, onion and garlic and cook and stir for 5 minutes.
Combine the ricotta cheese, soup, 1 cup pepper-jack cheese, eggs and black pepper in large bowl and mix well.
Stir in cut up chicken and asparagus.
Next stir in bell pepper mix and cooked pasta.
Spread in large, 13x9 casserole dish that has been oiled, and top with remaining cup of pepper-jack cheese.
Bake 35 - 40 minutes or until center is set and cheese is bubble and lightly browned.
Let stand 5 minutes before serving.