Chicken and Ziti With Asparagus in a Creamy Sauce
jrusk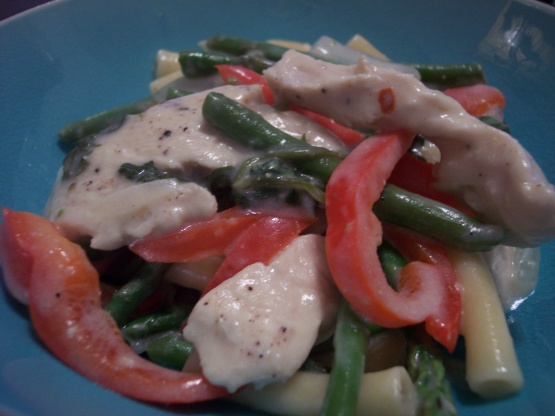 Amazing healthy but absolutely delicious! (This recipe is courtesy of foodfit.com)

Wanted to do a pasta dish that included asparagus, chicken, with penne, that wasn't too complex. This fit the bill exactly but I used some variations. First prepared the asparagus according to the recipe, second broiled the chicken filet strips, which were seasoned with sea salt and freshly ground pepper, turning over once.. Then melted 2 tbsp.butter, and added1 tbsp. olive oil, 2 tsp. minced garlic,and chicken stock with white wine. After reducing the sauce, I found it too thin so I thickened it with flour and water paste. I found the seasoning to our liking, not too spicy! In other words, this method worked and we enjoyed it very much.
Bring a large pot of salted water to a boil.
Place the asparagus in a colander and lower it into the boiling water. Cook the asparagus until it is just tender, about 2-4 minutes. Plunge the colander of asparagus into a bowl of ice water. When the asparagus is cool, remove the colander from the ice water and drain.
Top off the pot of water, if necessary, and bring it back to a boil.
Heat the olive oil in a large sauté pan over moderately high heat. Season the chicken with salt and pepper and add it to the pan. Sauté the chicken until golden on all sides.
Add the red peppers and cook for 2 more minutes. Remove the chicken and red peppers from the pan and set aside.
Turn the heat down to medium, add the wine and reduce until it is almost completely evaporated. Add the chicken stock and reduce by half. Add the low-fat sour cream and stir until the sauce is creamy. Add the chicken, red peppers and asparagus to the sauce and heat thoroughly. Taste and season with salt and pepper.
Meanwhile, add the pasta to the boiling water and cook for about 12 minutes until it is al dente. Drain and toss with the chicken and cream sauce. Serve immediately in warm pasta bowls and sprinkle with parsley.