Chicken and Sour Cream Enchiladas
DuChick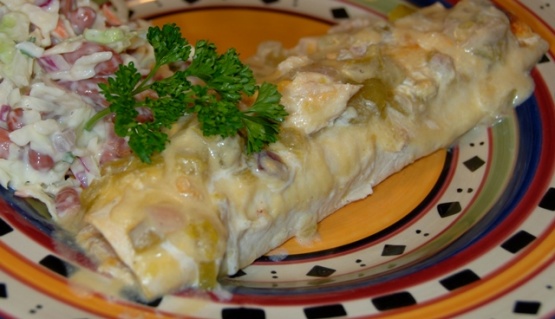 I don't remember where I got this recipe from, but its Delish!

We really liked the flavor of these. It was hard to keep from scraping the pan clean with the spatula to get the last bit of creamy goodness. (OK, it was impossible). But, I found a couple of things problematic when making them - I don't know if these were my fault or the recipe's. 1) There was too much onion for the amount of chicken filling. It's possible my onion was more of a "large" than a medium. 2) I couldn't get all of the flour to dissolve in the milk mixture. I finally gave up whisking with some lumps left, and they weren't noticeable once the cheese was melted in. Maybe cornstarch would dissolve more easily since there's no roux to slowly add the milk to. 3) The sour cream wouldn't "spread" on top. I stirred it to get it somewhat creamy, and then spooned it on. I tried to spread, but ended up pushing too much sauce over the edges, so I gave up & left the dollops. Maybe thinning with a bit of milk would solve this. Despite these glitches, we still loved this dish.
In a large bowl, stir together chicken, 1/2 cup sour cream, and 1 1/2 cups shredded Monterey Jack cheese. Set aside.
Saute onion in hot oil over medium-high heat 5 minutes. Add to chicken and cheese mixture.
Spoon chicken mixture evenly at one end of each tortilla, and roll up. Arrange, seam side down, in a lightly greased 13x9 baking dish. Set aside.
Whisk together 8 oz green chiles, milk, and flour in a saucepan over medium heat. Gradually add remaining cheese, stirring constantly, until cheese is melted.
Pour sauce evenly over top of enchiladas. Spread remaining sour cream over sauce. Bake enchiladas at 400 degrees for 20 to 25 minutes or until bubbly.
Top with remaining green chiles and serve.