Chez Panisse Spinach Soup
chia2160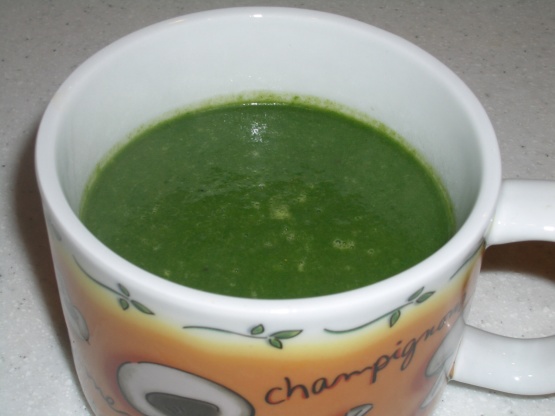 Adapted from "Chez Panisse Cooking" by Paul Bertolli. "Garnish the soup with garlic butter," Bertolli writes, "or swirls of crème fraîche thinned to the consistency of the soup and chopped nasturtium petals." He also suggests serving it with grated Parmesan, small buttered garlic croutons and extra-virgin olive oil drizzled over the surface. "Puréed spinach will turn a dull army green color within 20 minutes, so this soup should be blended, seasoned and served immediately."
4

tablespoons butter

1

large carrot, peeled and diced (4 ounces)

1

stalk celery, diced (2 1/2 ounces)

1

medium yellow onion, diced (6 ounces)

18

ounces spinach, de-stemmed, washed and drained (2 - 3 bunches)
salt, pepper
Melt the butter in a wide stainless-steel pot (at least a 5-quart capacity) over medium-low heat.
Add three-fourths cup of water and the carrot, celery and onion. Increase the heat to bring the mixture to a simmer, then reduce the heat to cook at a low simmer, covered, for 20 minutes.
Add 4 1/2 cups water and bring to a boil over high heat.
Add the spinach and boil for 1 additional minute, stirring until all of the spinach is well-wilted. Do not cover the pot: volatile acids, which are released when the vegetable is heated, will condense on the lid, fall back into the pot and cause discoloration.
Purée the entire mixture using an immersion blender, or pour into a blender to purée, and transfer the soup immediately to a hot tureen. Do not strain the soup.
Season with 1 1/2 tsps. salt and a pinch of pepper, or to taste, garnish as desired and serve immediately.