Chewy Skor Toffee Bits Cookies
Junebug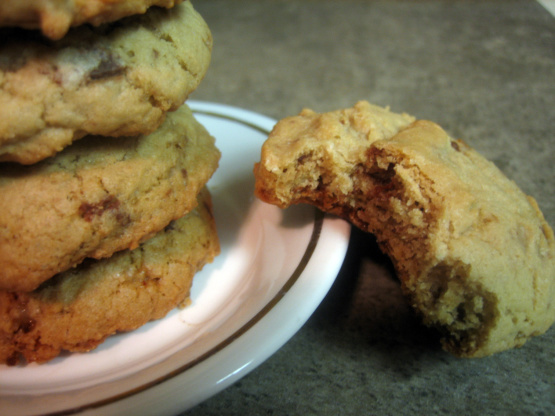 I found this recipe in my never-ending search to satisfy our family's love of Skor Bits.

This is a killer recipe! These cookies are absolutely delicious! I made them exactly as the recipe stated and I would not change a thing. You can't improve on perfection! Thanks for sharing Mirj! I wish I could give you at least 10 stars for these!!!!
Heat oven to 350 degrees F.
Stir together flour, baking soda and salt.
In a large mixer bowl, beat butter, granulated sugar, brown sugar and vanilla until well blended.
Add eggs and blend thoroughly.
Gradually add flour mixture, beating well.
Stir in toffee bits.
Drop by rounded teaspoonfuls onto a lightly greased cookie sheet (I used ungreased parchment paper).
Bake 10 minutes or until lightly browned.
Cool slightly, remove from the cookie sheet to a wire rack.
Cool completely.