Chewy Brownie Mix (Brownies)
wyojess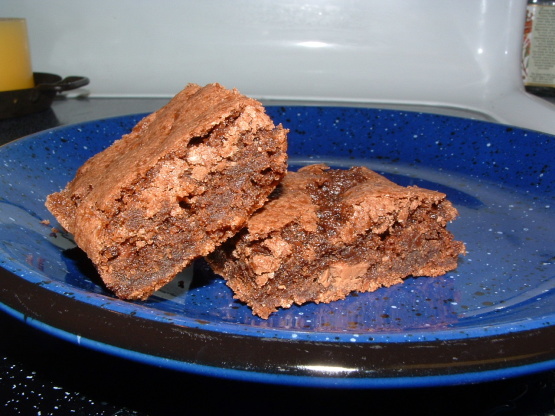 Great time saver (and good, too)! Mix makes about 7 pans (8x8) of brownies. ***Nutritional information won't include eggs, vanilla or nuts.
In a large bowl, combine the first five ingredients.
With a pastry blender, cut in shortening until evenly distributed.
Store in a large airtight container in the cupboard (two 3 pound coffee cans work well). Keeps 10-12 weeks.
To make brownies:.
2 1/2 cups mix, 2 eggs, beaten, 1 teaspoon vanilla extract, 1/2 cup chopped nuts (optional). In a mixing bowl, combine first four ingredients. Beat with a spoon until smooth. Spread into a greased 8-in. square baking pan (double recipe for 9x13 pan). Bake at 350 degrees for 20-25 min until the top tests done. Don't overcook :).