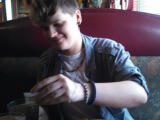 Cherry Cola is a good way to have your cold drink and eat it, too.
85.04 g cherry Jell-O
236.59 ml boiling water
236.59 ml cola drink (chilled if possible)
4 cherries
226.79 g can whipped cream (optional)
Directions
Dissolve gelatin in boiling water, add cola and stir.
Pour into four small soda glasses.
Chill until set.
Garnish with cherries, whipped cream, and straws.
Enjoy!
Reviews
Most Helpful
This was just cherry jello! I was really hoping the kids would love this; their reaction: It's just jello...
I used sugar free cherry jello and diet pepsi. It comes to only 10 calories per serving! Yum!
This was much better than plain cherry jello. I especially loved the cherries on top. Thanks LunaStar for posting. Roxygirl