Prose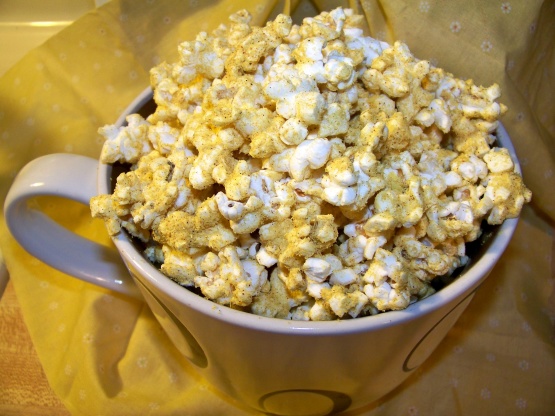 This is a low fat snack and is wonderfully delicious. Serve it at parties or when watching your favorite movies. Adapted from The Ultimate Uncheese Cookbook by Jo Stepaniak. Cook time is estimated time to pop popcorn.

I'm so glad that I found this recipe. I've made it about 5 times in the last 2 weeks now, and everyone that I've made it for (my children, niece, nephews, parents) has loved it. I add in 1/2t chili powder, up the onion powder to 1/2t, and also add in 1/2t of paprika (for coloring, and added flavor). I do want to say that the amount of seasoning made is enough for at least twice as much popcorn listed in the recipe. So I just store the extras in a small jar and save it for the next batch of popcorn.
Place warm popcorn in a large bowl and mist it with olive oil. Toss gently and mist again. Repeat until all kernels are lightly coated with oil.
Combine remaining ingredients in a zippered plastic bag. Seal bag and shake until well mixed.
Drop in popcorn, a little at a time, seal bag, and shake and turn bag to coat.
Continue to add a little amount of popcorn to the bag until all kernels are well coated.
Store zippered bag. Shake gently again before serving.