Prep 30 mins
Cook 15 mins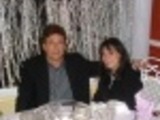 Scrumptious Sunday Supper with just 6 ingredients! from Woman's World Magazine 9/14/04.
Directions
Prick potatoes all over with a fork. Microwave until tender. Let stand until cool enough to handle, 15-20 minutes.
Horizontally cut 1/3 off tops of potatoes. Scoop potato from skins, leaving 1/4-inc-thick shells. Reserve potato and shells. Scoop potato from tops, reserving potato and discarding skins.
Mash potatoes with cream cheese, milk, salt and pepper. Spoon mixture into reserved potato shells; microwave on medium-high until heated through, 1-2 minutes. Sprinkle with Cheddar; microwave until melted, 30-60 seconds. Sprinkle with parsley.
Most Helpful
Well we had one hiccup my original plan was to use some garlic chives from the garden and mix with 2ounces of very low fat cream cheese, for 2 serves, but the weather of the last few days took the toll on my garlic chives and so I used finely sliced spring onion (mainly green) and otherwise followed recipe, using Carisma potatoes whish are a low GI white potato, which made for a quick and easy and delicious side. Thank you JackiePhNo! made for Newest ZAAR tag game.

We loved these! I made them on an RV trip...loved that you used the microwave and not the oven...I normally have all the ingredients on hand and plan to make this often...thanks for posting it!

I haven't cooked many potatoes in the microwave, so this was quite a different recipe for me to try. And I'm so glad I did! Made as directed and we really enjoyed this. Thanks, JackieOhNo! Made for the I Recommend tag game as recommended by I'mPat.