Cheesy Buttermilk Drop Biscuits
Dorel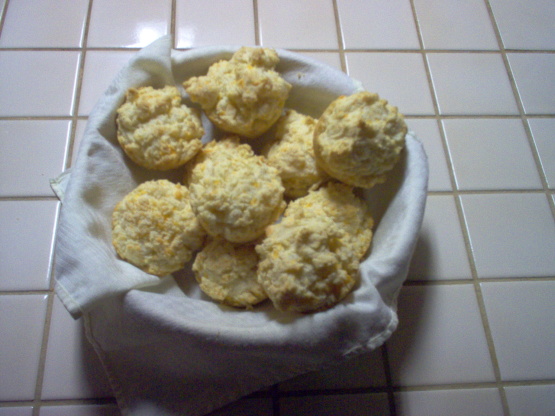 These biscuits are easy, quick and tasty! No rolling or cutting is necessary, making them no-fuss!

These were pretty good... they went well with (okay, in) the Imagine Garden Tomato soup (comes in a box... the best tomato soup out there, IMO). They were perfect for that, though not as good as my normal recipe on their own. Still, these were very good and like I said, went really nicely in my tomato soup. ;) Probably healthier than grilled cheese, anyway!
Preheat oven to 350, and mix dry ingredients in a bowl.
Cut in butter until it resembles coarse crumbs.
Mix in cheese.
Add buttermilk, and blend until dry ingredients are moistened; DON'T OVERMIX!
Divide dough between 12 greased muffin tins, and bake for 25 minutes, or until lightly browned.