Chèvre, Scapes and Cucumber Tea Sandwiches (Bread-Free)
flower7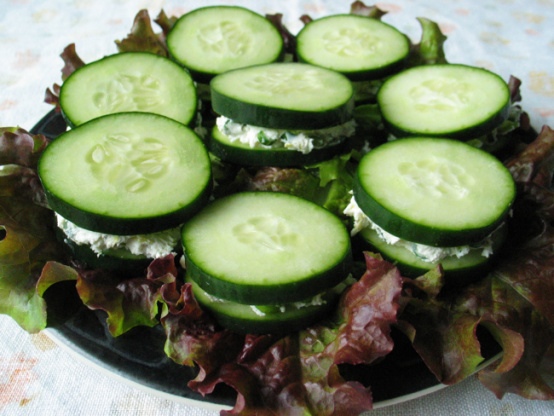 From a favorite magazine: DelciousLiving. Scapes are known in the US as 'garlic whistles'. Standard cucumbers or lemon cucumbers can be substituted for the English cucumber if you prefer. Very fresh, organic ingredients recommended!

Really nice finger food. I had over 1 1/2 lbs garlic scapes from the farmers market so wasn't sure how much constituted 1 bunch. I only had 4 oz chevre so after asking the recipe poster's advice went with 3 scapes. I think two would have been enough for my taste but maybe I just needed to get the scapes chopped more finely (I just thinly sliced). I had a standard cucumber not English but it worked fine. Served on red lettuce from the garden. Thanks CG for a new experience for me! :)
Mix the lemon zest and herbs into the goat cheese.
Add a sprinkle of ground black pepper, to taste.
Allow mixture to rest 30 minutes, covered, so that cheese can absorb the flavors.
Slice the cucumbers into 1/8" disks.
Spread a bite-size portion of the cheese mixture between two slices of cucumber, making a mini-sandwich.
Serving suggestion: To serve, I placed the "sandwiches" on a platter with a bed of loose leaf red lettuce and a little bit of arugula. Garnish platter with lemon slices if desired.
Servings are estimated.