Parsley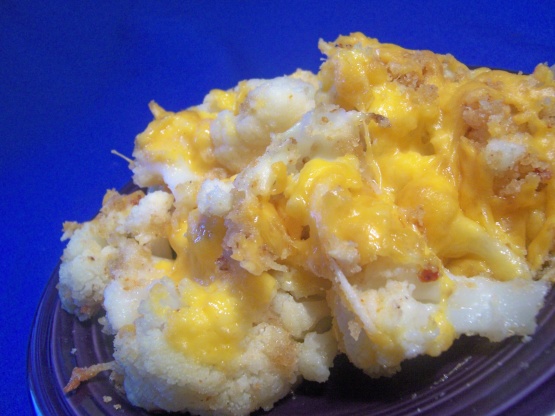 I got this recipe from recipe gold mine.

I used Italian bread crumbs,a little basil sprinkled on top and a dash of cayenne pepper I also tossed the cauliflower in two tblsp. olive oil in the casserole dish, sprinkled a little salt over the vege and then the cheese, crumbs and basil and cayenne. I eliminated the margerine.Delicious and lower in fat content.Thanks for posting.
Preheat oven to 350.
Bring a pot of water to a boil. Add cauliflower and cook for about 10 minutes.
Drain and place in a 2-quart casserole dish.
In a small bowl combine butter, Parmesan cheese, bread crumbs, salt and red pepper flakes.
Sprinkle mixture over casserole and top with Cheddar cheese. Bake for 20 minutes, or until cheese is melted.