Cauliflower and Broccoli Salad
JustJanS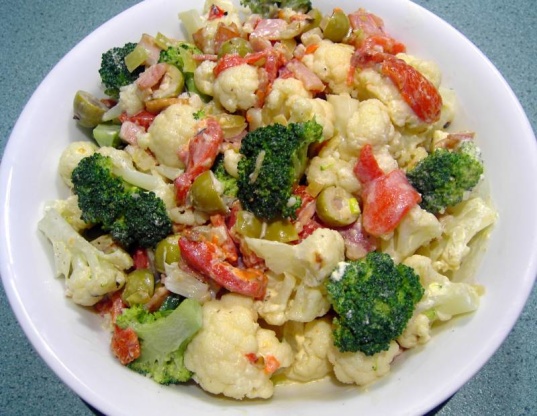 I went looking for one, but none really appealed. Here's what I came up with to use my cauli and brocolli.
Bring a large pot of water to the boil over high heat.
Add the broccoli and cauliflower florets, put the lid on and bring back to the boil as quickly as possible.
Boil 1 minute, then refresh in ice water and drain well.
Meanwhile, cook the bacon slices in a small pan over medium heatfor a couple of minutes, then add the onion and garlic and cook until softened (a couple of minutes more).
Cool.
Mix the drained vegetables with the oil and lemon juice.
Mix through the bacon mixture, the olives and the roasted capsicum.
Mix the mayo and sour cream together, season to taste with salt and pepper and stir this gently through the salad.