Parsley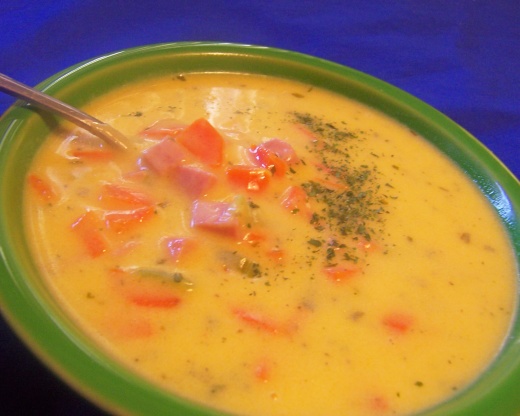 A different combo for soup, but so yummy, I also like to add in 2 tablespoons fresh minced garlic when sauteeing the veggies and ham.

This was absolutely delicious! DH made it and I supervised from my perch with comfy pillows! Sniff, cough, hack, blow...Have a flu bug and love to be waited on! This was easy and instead of cooked ham we cut up some Canadian Bacon! Very good and very yummy!
In a saucepan, melt butter; stir in flour until smooth cook and stir over med heat for 2 minutes.
Add carrot, onions and ham; cook, and stir for 1 min, then gradually add broth;.
Bring to a light boil, and stir 2 minutes.
Add cheese, parsley, and pepper;.
Heat until cheese is melted, and veggies are tender.