Hey Jude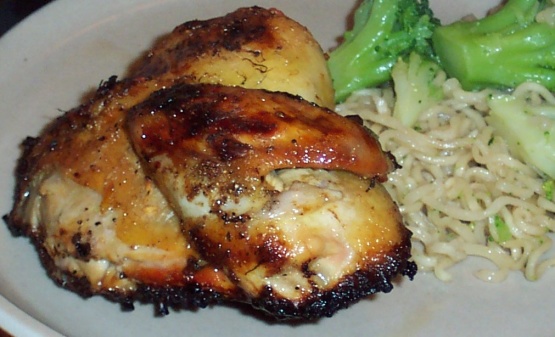 This poultry dish, marinated with lime and white rum, sounds like a taste of the Caribbean! I'm sure the marinade would be great on chicken breasts, too. I found this recipe in a Mix-and-Match Menu cookbook. I haven't tried it yet, but it's posted in response to a request. Prep time includes marinating time.
Yummy, cornish hens. Made them for dinner guest. Everyone loved them. I forgot to buy a lime so used limeade & orange rind. Worked good. Served with a baby green salad with different fruits, Corn on cob and fresh greens beans out of our garden. Delicious dinner, will be making these again. Thank you Kree.
To make marinade, combine rum, honey, lime rind, lime juice, garlic, and ginger.
Place birds in a shallow glass or ceramic dish and pour over marinade.
Turn to coat, cover, and marinate at room temperature for 1 hour.
Drain birds, reserving marinade.
Thread a skewer through wings and legs of each bird half; brush with reserved marinade.
Combine black pepper and coriander; rub over skin of birds.
Cook, turning frequently, on a light oiled preheated medium grill or under a broiler for 15-20 minutes or until birds are cooked through.