Carciofi Ripieni (Stuffed Artichokes)
IngridH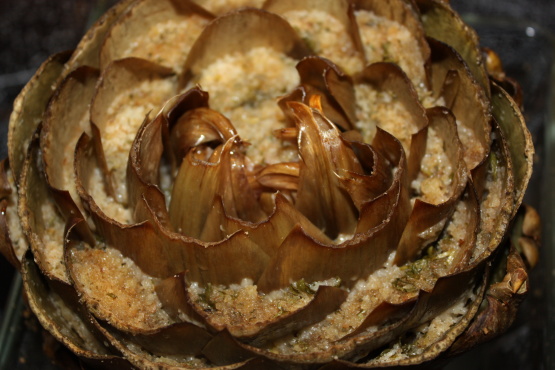 A delicious Tuscan recipe.

This is really a winner! I love stuffed artichokes, but rarely find a recipe where they are done well. This is the exception. The combination of cheese, lemon, and breadcrumbs is just perfect, and generous enough to really fill the choke with yummy filling. I cheated a bit, and sped up the cooking process by putting my choke in the microwave for 4 minutes before stuffing, then baking as directed for 45 minutes. A wonderful dinner, and a recipe I will definitely make again!
Remove as many as the outer leaves of the artichokes as look tough, bruised or split. Don't worry about taking off too many; there are plenty under there. Trim the stem, but not too far, and create a flat bottom for the artichokes. Cut off about 1/2 inch of the tops with a sharp blade.
Rinse each artichoke under water, and place in a large bowl of water into which you have squeezed half the lemon. This acidulated water will keep them from turning brown on their cut edges.
Drain the artichokes upside down on a clean dish cloth, while you prepare the filling. Put all the rest of the ingredients, except the olive oil, in a bowl and mix well. Now, hold each trimmed artichoke over the bowl, and spread the leaves with the fingers of one hand, while filling the gaps with a teaspoon and the bread crumb mixture. The goal is to get as much of the filling distributed as evenly as one can.
Place all the filled artichokes in a baking dish, and liberally pour olive oil to taste over each one - nearly a tablespoon for each is about the right amount. Pour a scant cup of water, or even water and white wine, into the baking dish. Cut the remaining piece of lemon up, and tuck around the artichokes. Cover securely with foil, and bake at 350F for about 1 and 1/2 hours. The leaves should pull out easily when they are done.
These should be cooled a bit before serving. Enjoy.