Caramelized Autumn Roasted Vegetables
Nikoma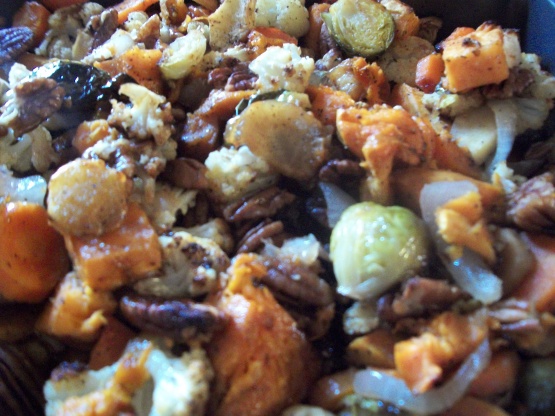 This recipe is from the November 2009 issue of Food and Wine Magazine. The grated nutmeg and minced ginger flavor this recipe very nicely. The toasted pecans also add a nice touch. I actually used more of the spices because I tend to like more flavor.

Top Review by Nikoma
This is SOOOOO good! Outstanding really! I used yams in place of the butternut because I had them, didn't add the ginger, but added caramelized onions when I added the pecans. The only thing I wasn't crazy about is that the cauliflower and sprouts didn't really get that roasting "crust" on them in this method. As a matter of fact they got a little to soft for me. I might roast the cauliflower by itself next time and throw it in, but then again, maybe I should have done this on cookie sheets instead of big cake pans so everything could spread out a little more? Either way, tremendous flavor! You don't taste the maple here, it just adds this "special something"! Wonderful! Will make again!
Preheat oven to 425. Spread the pecans in a pie plate and toast until fragrant, about 6 minutes. Let cool.
In a large bowl, toss the carrots, parsnips, cauliflower, squash, brussels sprouts with the olive oil and nutmeg and season generously with salt and black pepper. Spread the vegetables on 2 large rimmed baking sheets and roast for 30 minutes until the vegetables begin to brown. Scatter the pecans and ginger over the vegetables and drizzle with maple syrup; toss well. Continue to roast the vegetables for 25 minutes longer, until they are tender and golden. Scrape the vegetables into a bowl and serve hot or at room temperature.
Note: The roasted vegetables can be kept at room temperature for up to 2 hours before serving.