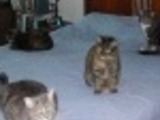 Posted for Zaar World Tour 2005. Unlike other cantaloupe soups, this has a touch of white wine. I also like the way it's served, with contrasting red watermelon balls. Vegan if whipped cream is omitted. From a cookbood of foods along the Danube, this recipe comes from Yugoslavia. I have not tried this yet.
Directions
In blender, mix lemon juice, honey and nutmet with cantaloupe pieces.
Blend in orange juice and wine.
Chill thoroughly, about 1 hour.
Before serving, mix well. Put 4 watermelon balls in each chilled soup plate, pour soup over and garnish with a dollop of whipped cream.
Reviews
Most Helpful
I made this for brunch today, it was simple and easy to make and my friends liked it a lot. It had a refreshing taste and we served it in port wine classes, as a shooter. It could easily be served as a shot for a larger party or tasting menu.
made for zwt4... i didnt exactly make it right because i dont drink wine and i didnt have fresh oranges or lemons. but i did put in some orange juice with some white grape juice to substiute the white wine... i was pretty good. but i think i would just rather eat cantaloupe by itself.

I quartered this recipe just to try it, for the Zaar World Tour. Absolutely delicious – a wonderful blend of flavours - and very elegant. It would be so refreshing on a hot day. In addition to the cantaloupe that was blended, I made some cantaloupe balls, and added these with the watermelon balls. I garnished mine with a dollop of creamy Greek yoghurt. Just loved the wine in it; I used moselle. Yum, yum! Thank you for sharing this recipe, Kumquat!