Canned White Yeast Bread That Needs No Kneading
Dorel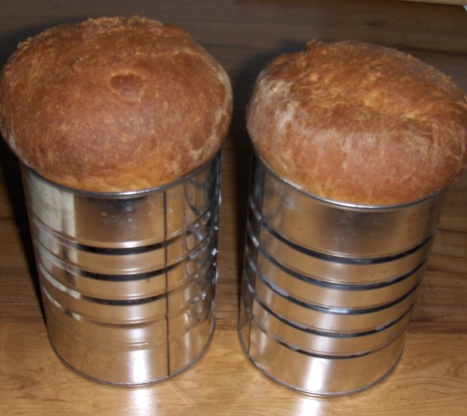 This is posted by request. It is made in coffee cans (or regular bread pans if desired). It is baked in cans to give it the unique shape. It came from a cookbook I've had since 1975. Time to rise in not in prep time.
In a large bowl, dissolve yeast in warm water.
Blend in cardamom and 1 tablespoon sugar and let stand 5 minutes.
Stir in remaining 2 tablespoons sugar, milk, oil and salt.
Add 2 cups flour and beat at medium speed of electric mixture until smooth.
By hand, stir in remaining flour, enough to make the batter very heavy, but to sticky to knead.
If you have a heavy duty mixer you could do it all in the machine.
Place batter in 2 well greased one pound coffee cans.
Cover with greased plastic lids (dough may be frozen at this stage).
Let cans stand in warm place until lids pop off tops, about 1 1/2 hours (if frozen, allow cans to stand for 4 to 6 hours in warm place).
Remove lids and bake at 350°F for 45-50 minutes.
If using a 2 pound can, bake for 1 to 1 1/4 hours.
Cool for 10 minutes, loosen crust around edges with a knife and let bread slide from can.
Place loaves on wire rack to continue cooling.
This can also be made in 2 bread pans.