Luschka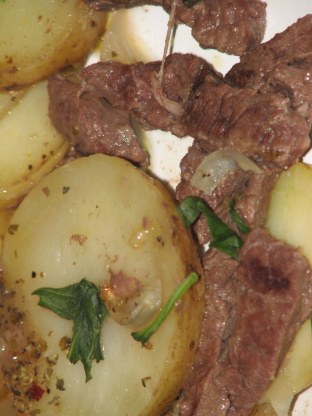 In the sixties I was a Camp Fire Girl and this is a recipe we learned to make and cook over a campfire. We made ours with a pork chop, potatoes, carrots and onion. I've tried to revise it so you can use any of your families favorite vegetables and meat. You could make these before you leave home and put them in a waterproof container in your ice chest. List of meats that work good: chicken tenders, smoked sausage slices, ground beef patties, ground turkey patties, thin boneless pork chops. List of vegetables that work good: carrots, green beans, corn, mixed vegetables, etc. (Vegetables can be fresh, frozen or canned). Be creative!

We enjoyed this meal. We made it in the oven, cooked it at 350. Our total cooking time was close to 50 minutes. We measured our ground beef (we used 85%) into 1/2 pound portions, then shaped it into patties using our Tupperware Burger Press. We cut up extra vegetables than the recipe called for because we really like them. We used a mandoline to get our potato slices nice and thin. Once they were cut we put them in a bowl and covered them with water to prevent browning. We sliced our carrots to the same thickness using a knife. We used 1 large onion sliced. We laid out the foil, sprayed it with cooking spray, put 1 beef patty on each sheet of foil then seasoned with garlic powder, onion powder, salt and pepper. Topped the patty with onions, potatoes (drained), carrots and butter. Seasoned again before sealing foil packets. A couple of packets were stuffed pretty full and had to be sealed with a 2nd sheet of foil. My husband and I ate the beef patty on a hamburger bun with cheese. Our niece cut her patty up and dipped the bites in ketchup. Thanks for the recipe!
1⁄2 lb meat

1

cup potato, sliced

1

cup carrot, sliced
1⁄2 cup onion, sliced

4

teaspoons butter
cooking spray
aluminum foil
Spray 18-inch square of aluminum foil with cooking spray.
Place 1/4 of the meat in center of foil.
Place 1/4 of the vegetables on top of meat.
Season with butter, salt, garlic powder and pepper to taste.
Fold top and sides of foil several times to seal food.
THREE WAYS TO COOK: Always place seam side up when cooking. You may want to double wrap if cooking on a campfire or grill.
•CAMPFIRE: Place on hot coals near the edge of your campfire and allow to cook 25-30 minutes, or until meat is done.
•GRILL: Place on medium/hot grill for 40 minutes; rotate 1/2 way through cook time.
•OVEN: Preheat oven to 350°F Place on cookie sheet or cooking stone; bake for 30 to 45 minutes, or until meat is done.
OPEN CAREFULLY!