California Pizza Kitchen White Balsamic Provencal Salad
hoda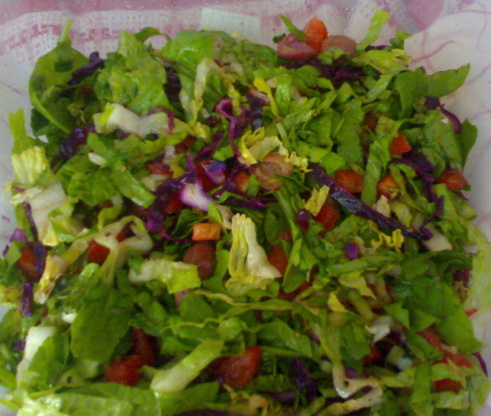 I love balsamic vinegar in recipes, and this is not an exception. This has a nice mixture of flavors that compliment each other wonderfully.
Vinaigrette Preparation.
n a mixing bowl, use a hand held electric mixer on low speed or a whisk to blend together the vinegar, garlic, herbs, salt, lemon zest, and pepper.
Beating or whisking continuously, slowly pour in the oil, blending until it is thoroughly incorporated. Cover with plastic wrap and refrigerate.
Salad Preparation:.
In a large mixing bowl, use salad servers to toss together the romaine, arugula, cabbage and dressing.
Transfer the salad to chilled serving plates. Surround each serving with a ring of diced Roma tomatoes, then top with sun dried tomatoes, feta cheese and Kalamata olives.