Jubes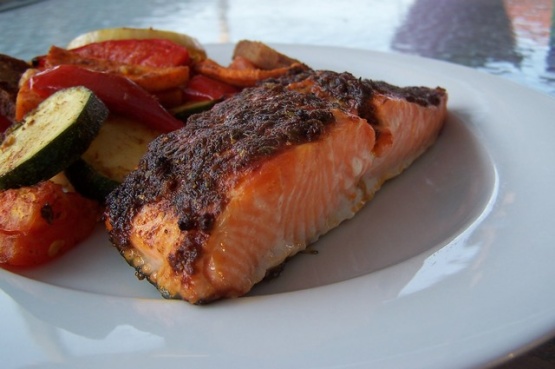 This is almost the only way I eat salmon. Note: I find this dish spicier when baked than when grilled. I use a frozen wild whole salmon fillet cut into about 6 pieces; feel free to use fresh salmon or whatever cut you like. If using salmon steaks, I would brush the seasoning on both sides.

This was ultra easy but I found the spicy flavour didn't enhance the salmon. It would be more suited to a plainer fish that needs jazzing up... not fish I paid $24.99 kg for. It may be because I used about 350g of fresh tasmanian salmon to the same amount of mixture in this recipe.
Thaw salmon; cut salmon into desired number of pieces; place skin down on a large tray or baking sheet.
Combine oil and spices, spread on top of salmon fillet.
Grill on barbeque till done, about 15-20 minutes or bake in a 400F 15-20 minutes.
Remove skin prior to serving.