Hey Jude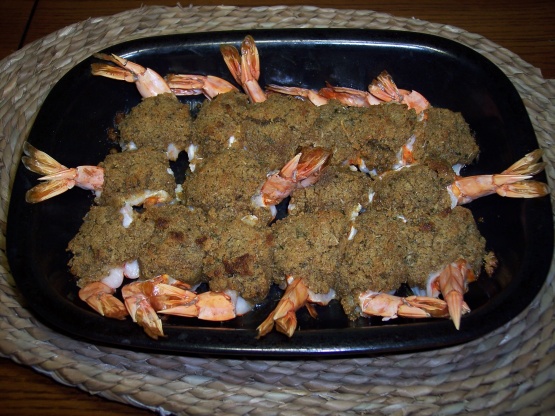 Rich and delicious for an appetizer, or splurge and eat them all yourself for a romantic dinner for two. Everything tastes good in candlelight.

I made this using 16 large shrimp and there was plenty of stuffing to go around. My husband and I loved this for a quickie, after-work supper. I used garlic flavored breadcrumbs and left out the minced garlic and I increased the Parmesan cheese, doubled it. I served with a heftily (is that a word?) loaded green salad. We really loved this shrimp. I even have leftovers to make the folks in the office jealous when I reheat in the microwave! Thanks Geema :)
Butter 9"x13" pan with 1 Tbsp butter.
Peel, devein and butterfly shrimp.
Arrange in pan.
Combine bread crumbs, melted butter, lemon juice, water, cheese paprika, parsley and garlic, tossing to mix well.
Spoon 1-2 heaping tablespoons of stuffing on each shrimp, depending on the size of the shrimp.
Press stuffing onto shrimp gently.
Bake at 400 degrees for 10-12 minutes or until golden brown.