Butterflied Leg of Lamb With Lots of Garlic and Rosemary
Rita1652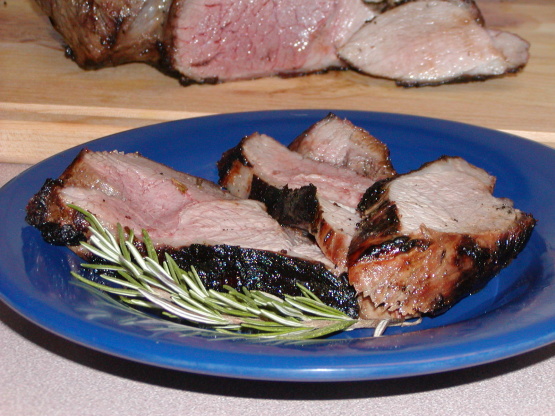 A butterflied leg is usually of uneven thickness. When it is grilled, there will be rare(125-130 degrees, medium rare 130-145 degrees, and medium-well 145 and up sections to satisfy everyone.

Even guests who didn't know it was lamb thought it was a tender, juicy beef cut. I love lamb and this preparation was top knotch. Great flavor - followed directions and had a great meal off the grill! If you like lamb you will enjoy this and it was so easy.
Trim any excess fat from the lamb and place it in a 9-by-13-inch nonreactive pan.
Whisk together all the marinade ingredients in a bowl.
Scoop out and reserve 1/4 cup of the marinade and pour the remainder over the lamb.
Massage into meat.
Cover and refrigerate overnight.
Remove the meat from the refrigerator and allow to come to room temperature.
Preheat grill to medium heat.
Place the lamb on the grill rack and cook, turning once and basting frequently with the reserved 1/4 cup marinade, for 15 to 18 minutes on each side for medium-rare.
My favorite!
Transfer to a platter, season with salt and pepper, and tent with aluminum foil.
Let rest for 10 minutes before slicing, then place on a cutting board and slice thinly.
Serve immediately.