Kats Mom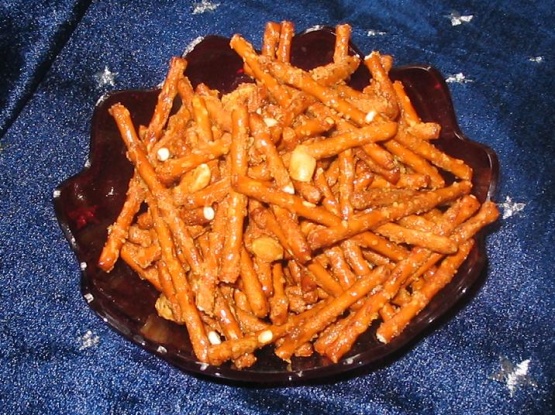 This is a great little snack to munch or to give away as treats during this Holiday season time.

Very good! Was a touch confused by "Cook, without sitting, 5 minutes." but figured that you meant "stirring". Could not find butternut flavoring so I used half vanilla extract and half butter extract. Made this for Bargain Basement Game so I was committed, but when I got to the store there was a sale on pretzels and all that was left was the small pretzel *sticks*. These are difficult to stir and even harder to measure, so it would be better to stick to the twisted variety or nuggets. I used two 1 pound bags of pretzels, added 1 pound of lightly salted roasted peanuts and made 1.5 times the recipe's glaze. Thanks Ridgely, I am sure DH will request this often. NOTE: Be very careful not to touch the glaze when stirring - very hot, and I speak from experience here ;)
Preheat oven to 200 degrees.
Place pretzels in a large roasting pan.
Butter sides of a heavy medium saucepan.
Combine brown sugar, butter and corn syrup in saucepan.
Stirring constantly, cook over med-low heat until sugar dissolves.
Increase heat to medium and bring to a boil.
Cook, without stirring, 5 minutes.
Remove from heat.
Stir in vanilla-butter-nut-flavoring and baking soda (syrup will foam).
Pour syrup over pretzels; stir until pretzels are well coated.
Bake 1 hour, stirring every 15 minutes.
Spread on greased aluminum foil to cool.
Store in Airtight container.