Jennygal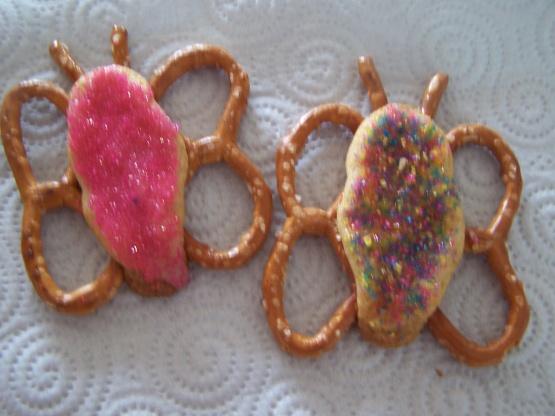 This cookie is so cute!! It is perfect for summer reunions or bbq's. It is courtesy of Betty Crocker and is yummy too! The recipe doesn't call for it, but one reviewer suggested sprinkling with yellow sugar once completed to send them over the top! If you are in a hurry (as I was) just use a refrigerated peanut butter cookie dough instead, but I have posted as originally shown. UPDATE: as per photo shown, I ended up making these into sparkly colorful butterflies which you can do by omitting the stripes. I used icing sugar to frost, and then sprinkled with lots of diferent colored sprinkles. I could only grab these two before they were gone! Also, I found them a bit cuter with longer antennae's. We had a peanut allergy so I used sugar cookie dough and they tasted wonderful!!
Beat peanut butter, shortening, brown sugar, honey and egg in large bowl on medium speed. Stir in flour, baking soda and baking powder. Cover dough with plastic wrap and chill about 2 hours.
Heat oven to 350. Shape dough into 1" balls (will be slightly sticky). For each cookie place two pretzel twists side by side with the bottoms touching on an ungreased cookie sheet. The bottom is the rounded part, this should look like wings. Place a ball of dough on the center of the pretzels and flatten slightly. Break 2 pretzel sticks in half, and gently press 3 pieces onto the body of the bee to resemble stripes. Break the last piece in half again, and poke into the head to resemble antennae. Repeat.
Bake 11-13 min or light golden brown. Place on wire rack and sprinkle with yellow sugar if desired. Cool completely.