eabeler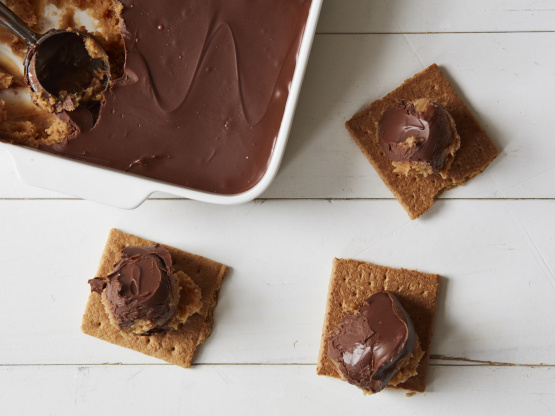 A friend and I were discussing the plight of buckeyes, while tailgating on a 100*+ day. They are hard to eat because the chocolate is melty and messy. She was upset that she had to throw away an entire container of melted buckeyes. Our collaborative effort was buckeye dip. This is a work in progress so feel free to tweak to your liking.

I made half of this recipe as my breakfast snack (I know, I know...). :) It was sinfully delicious! YUM! I literally licked the bowl clean as I could not get enough of the wonderful flavour combination. For the nutella I used this recipe recipe #330526 in which I reduced the honey by half. In the peanut butter layer I used a vanilla almond butter as thats what I had on hand and left out the confectioners sugar and half and half completely. It still was super sweet. That way I could have a bit more. lol
I really enjoyed this served straight from the fridge, but Im sure at room temp it would be great, too.
THANK YOU SO MUCH for sharing this delight with us, Juliana!
Made and reviewed for the Best of 2011 Recipe Tag Game in January 2012.
Combine first 4 ingredients until smooth.
Spread in the bottom of a greased pan.
Pour nutella over the peanut butter mixture. (we originally thought chocolate ganash, but nutella was easier).
Chill for about 2 hours.
Serve with Graham Crackers, Animal Crackers, Etc.