nott2339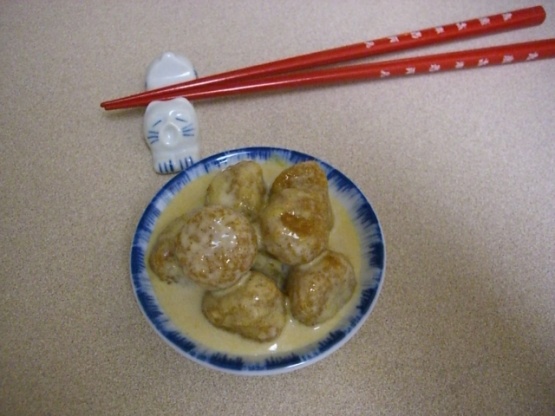 Brown Sugar Kabacha Squash Dumplings in warm Coconut Milk.

This is a tasty recipe, though I will tweak it a bit next time I make it. I needed about 4 tablespoons of rice and tapioca flour before it started to hold together. Next time I will also add a little more sugar to the squash mixture. The coconut mixture is right on. I see lots of potential for this recipe in the future!
In a saucepan, dissolve 1/4 cup coconut milk with sugar, and salt over medium heat and let it come to a boil. Add the rest of the coconut milk and stir and put aside.
In a medium saucepan, heat 6 cups of water over medium heat.
In a steamer over high heat, steam Kabocha pumpkin until soft, about 10 minutes. Put all pumpkin in the food mill and strain the solid out. let cool to room temperature Mix in the sugar and salt until disolved.Mix in the Rice Flourand tapioca flour and knead until finger comes clean. Use about 1 teaspoon dough to form a ball and let it rest on a baking sheet. Repeat until all the dough is gone. Drop 10 balls in boiling water, when they float to the top, let it cook for 2 more minutes the drop into the coconut milk mixture.
Server Warm and sprinkle with Cinnamon.