Brenda.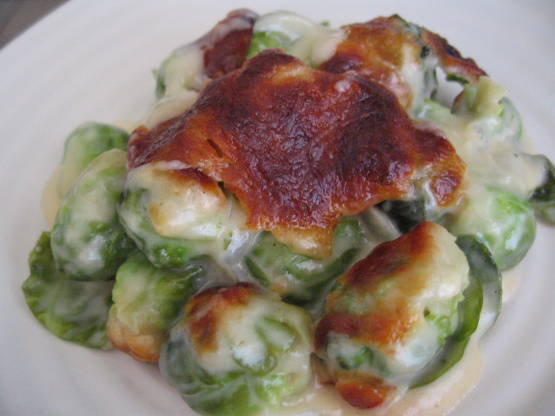 This is positively the ultimate recipe yet for brussel sprouts and the taste is unbelievable. Once again my wonderful girlfriend Betty passed this recipe onto me. Bon Appetit!

Can't wait to try this. One suggestion in answer to Brenda's comment: Maybe the "missing" thing is a splash of lemon juice. It helps with stronger tasting vegetables like this. P.S. I did try it- and it got rave reviews!
Parboil the brussel sprouts for 7 minutes and drain.
Place into a 2-3 quart oven proof dish.
Saute the onion in butter until clear and then add the flour and stir.
Add the warm milk, salt, pepper, nutmeg, 3/4 cup cheese and stir.
Pour filling over brussel sprouts.
Top with remaining 3/4 cup cheese and bake at 375 for 40 minutes.
This can be prepared and frozen until needed.