Mega8718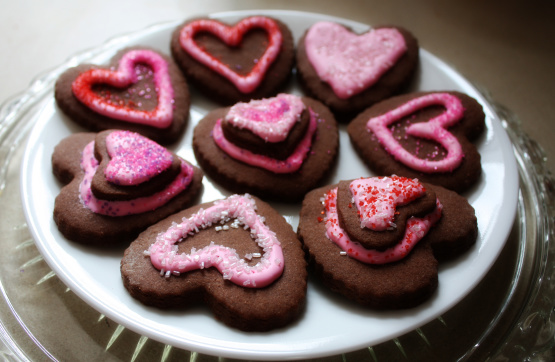 I got this recipe from smittenkitchen.com and am putting it here so I will always be able to find it. It makes the most wonderful, chewy, fudgey cookies. A definite keeper. *The recipe says to use parchment paper on the cookie sheets, but I didn't. I allowed them to sit on the cookie sheet for about 1 minute before transferring them to the cooling rack and it worked just fine.
Preheat oven at 350 degrees. Whisk dry flour, salt and baking powder in bowl and set aside. Mix butter, sugar, eggs, vanilla and cocoa in mixer. Gradually add flour mixture, and mix until smooth. Wrap in plastic and chill for at least one hour.
Roll out cookie dough on floured counter. Cut into desired shapes, brushing extra deposits of flour off the top. (It does disappear once baked, though, so don't overly fret if they go into the oven looking white.) Bake on a parchment-lined baking sheet for 8 to 11 minutes (the former for 1/8-inch thick cookies, the latter for 1/4-inch cookies) until the edges are firm and the centers are slightly soft and puffed.
Transfer to a wire rack to cool.