Katzen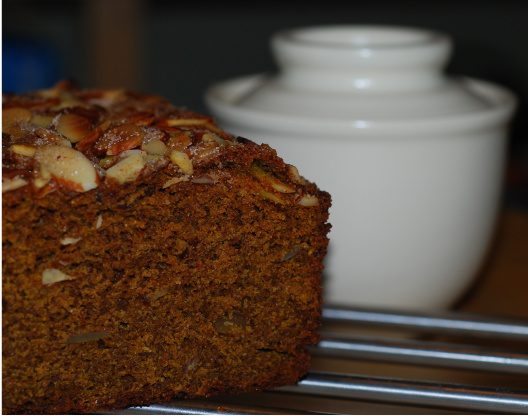 This is a cardamom-kissed, brown sugar crusted, squash spice cake that comes from the wonderful blog, 101 Recipes. Making use of winter squash and some warming and assertive spices, this "cake" is definitely not a super sweet cake, more reminiscent of grandma's zucchini loaf... only more fragrant. As with anything from this blog, you'll enjoy, I'm sure.
1⁄2 cup unsalted butter, plus more for the pan

1

tablespoon hazelnut oil, toasted or 1 tablespoon almond oil or 1 tablespoon butter, melted
1 1⁄2 cups whole wheat pastry flour (plus more for the pan)

1

teaspoon baking soda
3⁄4 teaspoon ground cinnamon

1

teaspoon garam masala
1⁄2 teaspoon sea salt, fine grain

1

cup muscovado sugar or 1 cup sugar, organic

2

large eggs
1⁄2 cup winter squash, roasted and pureed (such as pumpkin, butternut, acorn)
1⁄3 cup almonds, lightly toasted sliced & lightly toasted
1 1⁄2 tablespoons muscovado sugar or 1 1⁄2 tablespoons sugar, organic
Melt the butter in a small pot over medium heat until it's brown and gives off a deliciously nutty aroma. This can take anywhere from 10 to 20 minutes. You want the butter solids nicely toasted, but not scorched. Stir in the toasted hazelnut oil. Set aside and allow to cool but not set. By doing the butter first you can complete the rest of the steps while it is cooling.
Preheat oven to 350F / 180C with a rack in the top 1/3. Butter and flour a 1-lb loaf pan, or roughly 9x5x3-inch.
Sift the flour, baking soda, cinnamon, garam masala, and sea salt into a large bowl. Set aside. In a smaller bowl whisk the sugar, eggs, squash, and milk. Whisk in the still melted butter, but make sure it isn't hot to the touch. Add the wet ingredients to the flour mixture, and stir until just combined. Fold in most of the almonds.
Pour the batter into the prepared pan, sprinkle with 1 1/2 tablespoons of sugar and remaining almonds, and bake for about 50-60 minutes, or until the edges have browned and the center of the cake is well set. Do your best to avoid over-baking, part of the charm of this cake is its moistness, when it is baked properly. Use a cake tester if necessary.
*To make pureed winter squash: Roast large wedges or small cubes of skinned and seeded pumpkin, butternut squash, red kuri squash, etc. in a 375F / 190C until cooked and tender throughout. Puree with a hand blender until smooth.