Broiled Spinach With Four Cheeses
Parsley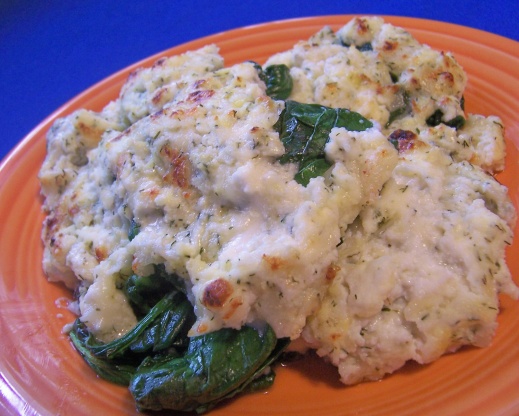 Quick, easy and versatile! You can change the flavor of this dish by changing the types of cheese (i.e. pepper jack for a spicier flavor). This works out well for low carbers too!

I made this recipe as directed however; I reduced the amount of dill and used dried dill instead of fresh. I think next time around I am going to omit the dill or increase the garlic. This recipe has some good bones I just think modifying it to suit own personal tastes will make it even better. Thank you for the low carb tasty side dish. They are hard to come by. :)
Preheat the broiler to medium.
Lightly butter a 11"x7"x2" baking dish.
Mix the cheeses, dill and egg yolk in a large bowl.
Heat oil in a large pan over medium-high heat, then add the garlic.
Stir for a minute until fragrant.
Pour into the prepared baking dish.
Add the spinach to the pan and saute until wilted.
Transfer spinach to strainer; drain well.
Pour over the garlic in the baking dish.
Toss to coat with the oil and spread out evenly.
Sprinkle with cheese mixture.
Broil until cheese is golden on top, and the spinach is heated through.