Ben R.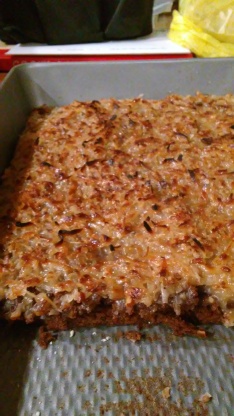 My husband does not like the gooey icing of German Chocolate cake, so I found this pretty slick alternative! It has all the flavors, but a very distinct "crunch", it almost caramelizes on top of the cake. Try it, I think you will be pleasantly surprised! I do not use the nuts as my husband does not like nuts in his cakes, only cookies! This is perfect for a 13x9 cake, I often use a Swiss Chocolate cake mix.
Mix all ingredients well.
Spread mixture over a slightly warm cake.
Set your oven to broil.
Place cake approximately 5 inches from the heat source and broil until topping bubbles and browns slightly.
WATCH CAREFULLY AS THIS CAN BURN VERY EASILY!