Annacia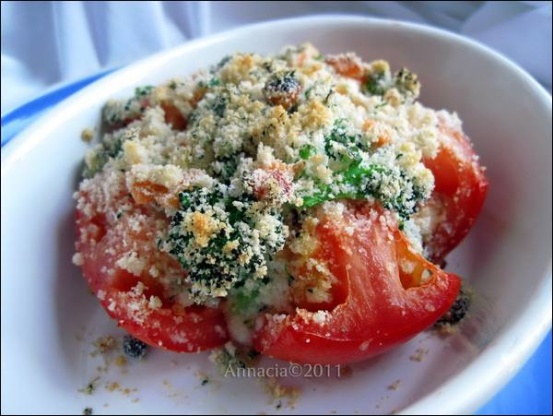 This recipe came from "Home Cookin' with Dave's Mom", modified just a bit to suit our taste. The book contains recipes from Dorothy Mengering, mother of late night talk show host David Letterman.

I wasn't really crazy about this recipe. I agree with what another reviewer wrote about the cooking time not being long enough. Perhaps it would help if the oven were hotter. I did like the broccoli filling just not the tomato. Made for Please Review my Recipe cooking tag game.
Steam the broccoli in a small amount of water for about 3 minutes. Drain well.
Combine broccoli with cheddar, breadcrumbs, celery, mayo, and salt.
Take the stem off the top of each tomato. Carefully cut 5 wedges in each tomato without cutting all the way through the bottom - the wedges should stay connected at the bottom.
Spoon equal amounts of the broccoli filling into each tomato. Gently press the wedges back toward the center of the tomato. Sprinkle each with some of the parmesan cheese.
Place tomatoes in a shallow pan and bake at 325 degrees for about 25 minutes.