Broccoli Soup for Dieters
Prep 15 mins
Cook 40 mins

This is not a Broccoli Cheese Soup, or a Cream of Broccoli soup...this is just vegetables. It does have a starch in it, so if you are in a diet that eliminates starches, now you know! Low fat, and very healthy. I like broccoli, celery, and basil, so I like this! Plus it is sooo healthy!
Directions
Saute onion in oil in a Dutch oven until tender. Add potato, celery, garlic, salt and pepper, and saute for 10 minutes. Add broth, broccoli, and basil; stir well. Bring mixture to a boil; cover, reduce heat, and simmer 20 minutes or until vegetables are tender.
Transfer half of the broccoli mixture to a blender or food processor, and process until smooth. Repeat with the rest of the mixture. (I just use my handheld blender and puree it all!).
Serve in soup bowls.
Reviews
Most Helpful
New Years Resolutions are happening, and I'm trying to lose weight. Especially from all the sweets I ate over Chirstmas! I really enjoyed this broccoli soup. I reduced the olive oil, but left some because olive oil is a "good" oil, and in addition to dieting, I'm getting older and need those good oils for my eyes, skin and hair. Loved the basil!
I made this exactly as posted, except I used 2 T. of olive oil, which was plenty. I thought the amount of dried basil seemed like a lot, but it was perfect. I used fresh broccoli from the farm, which I steamed in the microwave first. It was tasty and filling and, best of all, guilt-free! Thanks for sharing.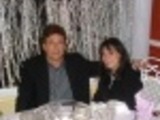 I, too, was surprised at just how much I liked this. It really has a nice flavor even without cream or cheese. I loved the half-pureed texture. I made this as written, but only used about 1 tbsp of olive oil. (If this is a "diet" soup, why do we need 1/4 cup of oil???). Thanx for sharing.