Broccoli and Chicken in Piquant Sauce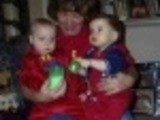 This recipe originally came from my old cookbook on American Casseroles. This one dish can make a nice meal by itself. Recipe serves 14. Nice for company - goes a long way. Once the chicken is cooked and cut into pieces - the recipe goes together very fast.
Directions
In a casserole dish sprayed with Pam, layer the broccoli and chicken until all used, beginning and ending with the broccoli.
Combine the rest of the ingredients and pour over the broccoli and chicken.
Bake at 325*F for 1 hour.
Reviews
Most Helpful
I made this recipe but substituted a store brand whipped salad dressing for the mayo. This flavor overpowered everything else and the result was a dinner that we didn't particularly care for. I would recommend that others not try this substitution, and I'm not giving a rating because I don't know how the dinner would have turned out if I'd followed the original recipe. On the positive side I can say that the chicken and broccoli turned out very tender.
Okay, first of all, I quartered the recipe to 4 servings. I used a mixture of green beens, broccoli, and carrots and used chicken thighs. Also, instead of curry powder, I used curry paste. Served over couscous spiced with more curry paste, pistacios, and rasins. Delicious!