Brie, Bacon and Cranberry Pastries
yalenas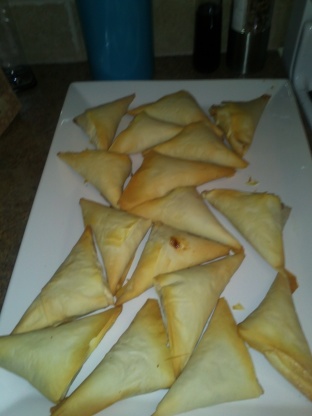 For the holidays - these can be made up ahead of time and frozen.

This was such a delicious recipe! I made these for my holiday gathering and everyone loved them. I actually used wanton pastry and using a cookie cutter cut them into medium sized rounds. I baked them in a lightly sprayed mini-muffin tin this gave a sort of flowery croustade appearence. I filled each little flowery cup with brie and bacon topped with a dollop of cranberry sauce and continue to bake until the cups were a golden brown. I have seen this on the BBC done with Puff pastry and fried, but I enjoyed this much more. Thank you for posting this recipe. This is sure to become a holiday favourite!
Preheat oven to 350F.
Cut phyllo dough in half lengthwise.
Keep half covered with plastic wrap and damp kitchen towel while working.
Place two sheets of phyllo dough on work surface and brush with butter.
Fold in half lengthwise and brush with more butter.
Place 1 1/2 tsps cranberry sauce, 8 cubes Brie and nearly a tsp of crumbled bacon at the bottom of strip.
Diagonally fold corner over filling, forming a triangle.
Continue folding triangle shape up to the end.
Brush with butter and place on a buttered jelly-roll pan.
Repeat with remaining phyllo dough and filling.
Bake 10-15 minutes or until golden brown.
Cool 5 minutes brfore serving.