This recipe is called 'Breakfast Tortillas' but we eat them at dinner time. I put them together in the morning and refrigerate all day. I really like the combinations of flavors in this dish. (Prep time includes fridge time.)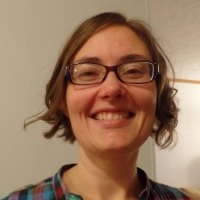 These didn't work out so well for me. I followed your recipe, but the egg mixture never cooked. I had to mircowave it for nearly ten minutes for it to be done. It tasted alright, but it wasn't anything special.
Mix together ham and onion, place about 1/3 cup of mixture in the center of each tortilla.
Sprinkle with cheese.
Roll and place seam side down in a greased 13x9-inch baking pan.
In another bowl, mix flour, milk, eggs and salt until smooth.
Pour over top of the tortillas and cover and refrigerate overnight.
Take casserole out of fridge 30 minutes BEFORE baking at 350 degrees for 25 minutes.
Uncover and bake another 10 minutes.
Sprinkle with remaining cheese and return to oven until melted.
Let stand for 10 minutes before serving.