KGCOOK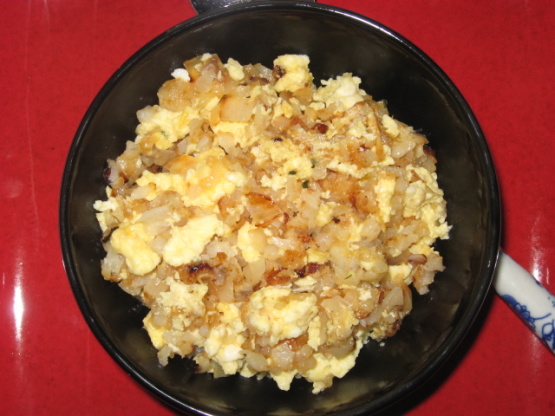 This is just so simple and versatile. You can put anything in it you like. Make more to go with it or not. DH and I like it just this way because it can be filling depending on what you put in it. Seasonings are to your taste. I change them all the time depending on what I add to these. The more servings you need, you can add extra of any of the ingredients. This is also a budget stretcher. Cooking time does not include adding more than ingredients listed. If you use meat, be sure to precook it first and drain.

I love this recipe. I am eating this as I type. I followed the recipe exactly and chose to put mine in a flour tortilla for a breakfast burrito. I added extra cheese and salsa to the burrito. Fantastic! Thanks so much for posting!
3

tablespoons olive oil

12

tater tots

6

eggs, beaten
1⁄8 cup onion, finely chopped
1⁄4 cup cheese, fine shredded (I use cheddar)
Cooking the starter:.
Heat skillet with olive oil till hot.
Add tater tots and onion.
As tater tots and onion cook, break tots up with turner until they resemble hash browns.
When they are hot and onion is done, remove to bowl and keep warm.
Mix eggs with milk or water and pour into the hot skillet. Cook on medium heat.
Cook eggs scraping the bottom of pan as they cook to scramble them.
When eggs are just about done, add your tater tot mixture and mix with eggs.
Let eggs finish cooking. Shut off burner and mix cheese lightly into eggs.
I use cheddar cheese.
Adding other ingredients:.
While tater tots and onions are cooking add any other ingredients you like.
Add them in the order going from the ones that take the longest to cook to the shortest amount of time to cook.
Cut small items into small bite size pieces.
Left overs work great for this.