Breakfast Casserole - Easy - Sausage/Cream Cheese
CarrolJ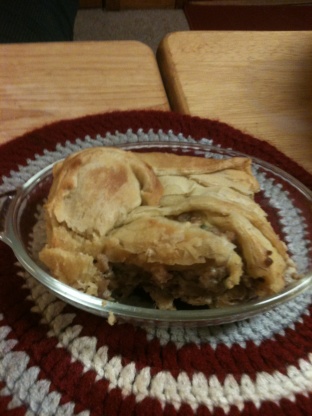 This casserole is great for holidays or just special days. It's easy, inexpensive to make and taste great. I normally put all the ingredients together (except the cresent rolls) and let sit overnight in the fridge. This isn't a must, but I'm not a morning person and it saves time the next day.
This was amazingly easy to make. I only used the green tops of the bunch of green onions because I could see that would be enough. Since I didn't have seasoned salt, I used Half-Sharp Paprika and salt. Next time I will leave out the salt and just use the Half-Sharp Paprika. This was absolutely luscious. It is so good it would make great calzones. It's a keeper! Made for Fall PAC 2012.
1. Fry sausage until brown and completely done.
2. Chop green onions.
3. Mix sausage and green onions into softend cream cheese.
4. Add just a pinch of Lowery's Season Salt.
5. Mix well.
6. Spread 1 pack Crescent Rolls out in a baking dish.
7. Spread cream cheese mixture ontop.
8. Spread second pack Crescent Rolls ontop of mixture
9. Bake at 375 degrees for 15 - 20 minutes. The Crescent Rolls should be golden brown and flaky.