Breaded Buffalo Chicken Sandwiches for Two
gailanng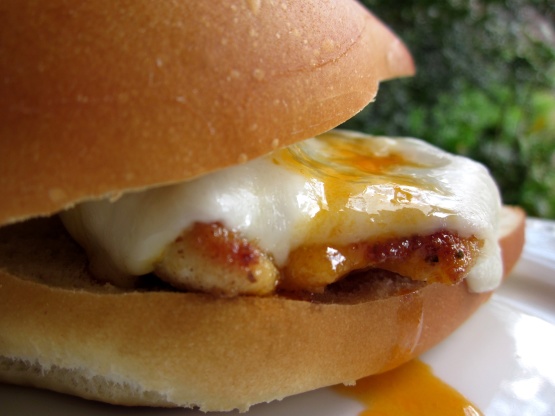 Originally from TOH. I had to rework the original sauce posted...for the better--3/18/11.

I made this recipe for the " Garlic Event " in the Food Photo Forum, and as part of mine and SO's dinner. I made the recipe exactly as it was written,but neither one of us really cared too much for it. The breading didn't seem to have much flavor at all.As a matter of fact, the only flavor that this recipe had was from the sauce. I wish I could say that we liked it,but I can't and I'm so sorry.
Sprinkle chicken with salt, garlic powder and pepper.
In a large resealable plastic bag, combine bread crumbs and flour. Add chicken and shake to coat.
In a skillet over medium heat, brown chicken in oil. Reduce heat; cover and cook for 10 minutes or until juices run clear.
Place cheese over chicken; cover and cook for 1 minute or until cheese is melted.
In a small saucepan over medium heat, melt the butter; whisk in hot pepper sauce, honey and vinegar until smooth. Bring to a gentle boil, whisking constantly for 1 minute or until thickened. Drizzle over chicken.
Serve on buns with blue cheese or ranch dressing.