Bread Machine Cinnamon Buns
chiclet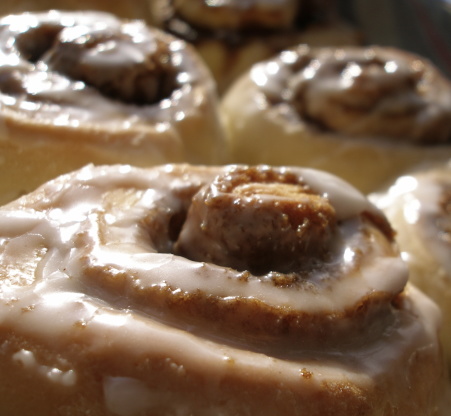 Bread machine cinnamon buns.

I can not believe that I am the first one to try and rate these fabulous (what I would refer to as cinnamon rolls)we had a rainy dreary day today and so I decide to perk it up with a treat for the family. These rolls came out so big and fluffy and the filling reminded me of the cinnamon fried pies my mom would make when I was a kid. So comforting and amazing delicious. I will admit I did use another recipe for the icing as my family prefers a cream cheese base icing, but the winner is really in the roll it's self. Krust I wish I could give you more than 5 stars! Thanks for bringing back my childhood if only for a few hours!
Put yeast in bread machine first on bottom, then flour, sugar and salt.
Then melt butter in microwave. Add beaten egg, milk and water.
Pour onto dry ingredients in bread machine on the dough setting.
When dough is done, put it onto a lightly floured surface.
Knead in enough flour to make it easy to handle.
If it is too elastic, cover and leave 10 minutes.
Use floured rolling pin to roll out dough on floured surface.
Roll out into rectangular shape to approx 1/4-inch thick.
Use filling and spread over entire surface of dough with spoon.
Roll up dough.
Cut into circle with a sharp knife about 1-inch thick; place these in a greased 9x13-inch pan.
Cover with a tea towel and leave in a warm place for approx 30 minutes, until double in size.
Bake in a 350° oven for about 25 minutes, light brown on top.
When done, make glaze and swirl over buns.