PanNan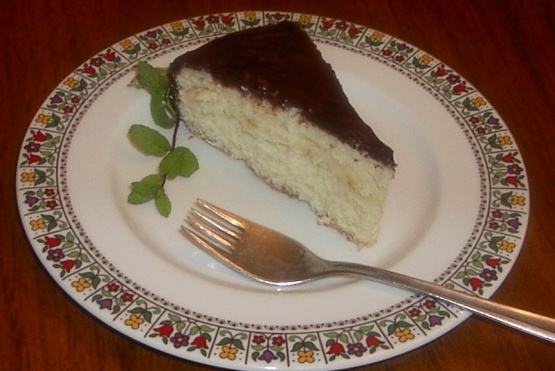 At least once in your life you should treat yourself to a real Boston Cream Pie. This recipe is worth all the necessary but easy steps, and makes a single 8" cake which is cut into 2 layers, filled with custard and frosted with glossy chocolate. Cook time includes 45 minutes for cooling the cake and custard.

The flavor on this Boston Cream Pie is to die for! As others mentioned, the frosting makes enough rich chocolate for 2 cakes. Also our opinion is that the filling should be doubled. Absolutely fabulous and well worth the time!
Cake: Preheat oven to 350°; grease and flour an 8" round cake pan.
Beat the egg whites until stiff in a large bowl; in a small bowl beat the egg yolks until light; add to the whites and beat together; slowly add the sugar, beating for 5 minutes.
Sift the flour, baking powder and salt together; in a saucepan heat the milk and melt the butter.
Stir the dry ingredients and milk mixture into the egg mixture as quickly as possible; stir in vanilla and lemon extract if using.
Pour batter into pan and bake 25-30 minutes, until toothpick tests clean; cool 10 minutes, remove from pan and cool completely on wire rack; slice the cake into two layers.
Filling: In a double boiler over medium-low heat, cook sugar, flour, salt and milk for 15 minutes, stirring constantly until thickened and bubbly.
Temper the egg with the cooked mixture and pour back into the pan; cook another 3-5 minutes until thickened; remove from heat, stir in vanilla or orange extract and cool completely with plastic wrap on custard surface; spread on bottom cake layer, add top layer.
Frosting: Bring the sugar, cornstarch, chocolate, salt and water to a boil; cook, stirring, 3-5 minutes or until thickened enough to coat a spoon thickly; remove from heat, add butter and vanilla and stir until combined.
Cool a bit, but while still warm, pour and spread frosting over the top of cake, allowing some to drip down sides if desired; there may be more frosting than you need, use it for another purpose.