Ashley Cuoco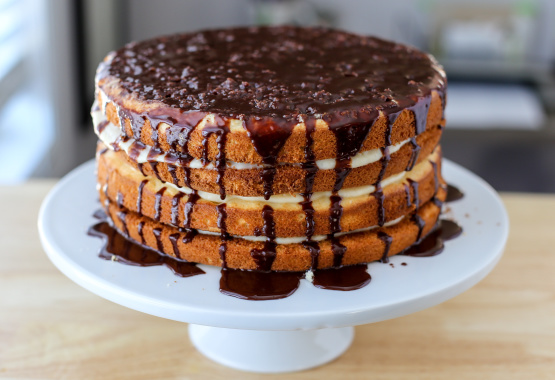 An ancient Good Housekeeping recipe that I religiously make every New Years day. If you've never made a scratch cake, you don't know what you're missing. Using cake flour is a must. See Lennie's Cake Flour Substitute. Be sure to properly measure your flour by lightly spooning into a measure cup until overflowing then using the backside of a knife to level off. Too little flour will produce a callapsed cake and too much will have wet spots with dense layers. Cake layers freezeable. Prep time also includes assembly time.

Why don't they give us more stars to give, this recipe deserves at least 10! I premade the cakes and froze them then yesterday allowed them to slightly defrost as I filled with custard and frosted. I did make the Cherry topping to put over the top as my Dear Late Mother did for all of my Birthday Cakes (this to commerate our two dear Presidents Washington and Lincoln also born in February) Ohhh my goodness easy and delicious cake...it is now the recipe I will use every Birthday Thank You so very Much for this recipe I will never have to purchase my cake from the Bakery again. Love Ya Gail!!!
Heat oven to 350 degrees. Grease and flour two 9" round cake pans or make it easy on yourself and trace the bottom of the cake pans on a piece of waxed paper and cut to fit then place on bottom of pans. No need to grease; the cakes will fall right out.
For the cake layers: Separate eggs; place whites in a small, clean bowl free of any grease or oil and set aside. In a large mixing bowl, combine cake flour, 3/4 cup of the sugar, baking powder and salt. Set aside.
In a small bowl with an electric mixer, beat egg whites until soft peaks form. Very gradually beat in the remaining 1/4 cup sugar; beat until stiff peaks form. Set aside.
Add egg yolks, oil and 1/2 cup milk to flour mixture. With electric mixer, beat until smooth, scraping sides of bowl occasionally. Add remaining 1/2 cup milk and vanilla. Beat just until combined. Carefully fold beaten egg whites into batter. Divide batter into prepared pans.
Bake cakes 20 to 25 minutes or until centers spring back when gently pressed. Cool in pans on wire rack for 5 minutes. Loosen cake around edges with a sharp knife then turn cakes out onto racks and remove waxed paper, if used; cool completely. (Tip: I make the cake layers in advance, wrap and freeze. Defrost in wrapper for a couple of hours then proceed with the filling and glaze.).
While cake is baking, make cream filling: In a 1-quart saucepan, heat 1 cup milk to boiling. In cup or small bowl, combine remaining 1/2 cup milk, cornstarch, sugar, pinch salt, egg and vanilla until blended.
When milk comes to boiling, gradually stir in cornstarch mixture with wire whisk. Return to boiling, stirring constantly. Reduce heat and simmer 1 minutes or until thickened to pudding consistancy. Set aside to cool to room temperature.
Make chocolate glaze: In 1 quart saucepan, heat water and sugar to boiling. Add chocolate chips; stir until glaze is smooth; remove from heat. Cool 5 to 10 minutes or until slightly thickened.
To assemble, place one cake layer, upside down, on a serving plate. Spread with cream filling. Top with remaining cake layer, right side up. Spoon glaze over top; spread to edges of cake. Refrigerate.