Bo's Cottage Cheese Snack
COOKGIRl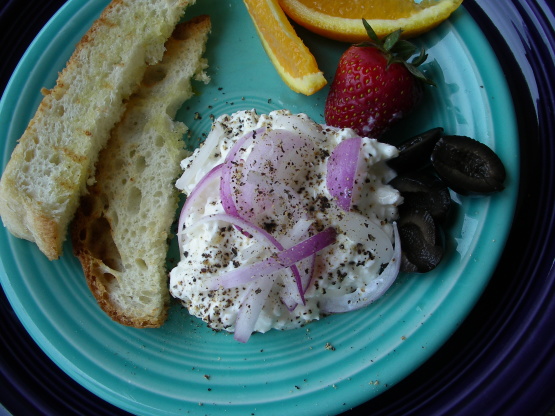 My brother's favorite way to eat cottage cheese! He's been eating cottage cheese this special way for years. I promised him I'd post the recipe online so that our family's culinary history is recorded for all mankind. Here ya go, RamBo!

Top Review by Ms B.
I am usually a fruit and cottage cheese girl, but this recipe grabbed me as a change for my breakfast this morning. The sweet onions had just the right bite to contrast with the creaminess of the cottage cheese. Served it up with a glass of low-sodium V8 juice and had a quick and healthy light meal.
Place cottage cheese in small serving dish.
Stir in the red onion or garnish the red onion on top.
Add a few dashes of black pepper.
Enjoy.