Elmotoo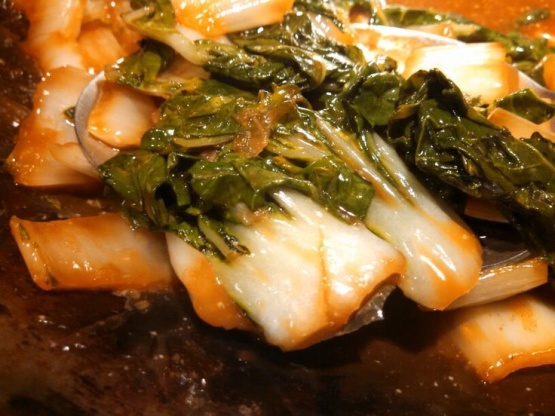 For this lovely light dish you can use either Chinese cabbage or Bok Choi. This is an unusual preparation from eastern China. Taken from Kenneth Lao's Complete Encyclopedia of Chinese Cooking.
Separate the leaves and cut each in half length-wise, then cross-wise.
Heat 4 T of the oil in a wok until hot.
Add cabbage and fry for 3 minutes.
Add salt & Sugar and mix well.
Remove from pan when tender.
Heat 1 T oil in the wok.
Add stock and bring to a boil.
Put cornstarch in water, mix well
Add cornstarch mix & milk to stock, stirring well about 1 minute until thick.
Pour 1/2 the stock mix into a container.
Add cabbage to sauce left in the pan and mix and heat thoroughly.
Put on serving plate and top with remaining sauce. Grind pepper on top.